Danse Mécanique screened and awarded at festivals
Having already been noticed by the animation industry, "Danse Mécanique", directed by Laetitia Loison (2018 graduate) is now competing at several festivals.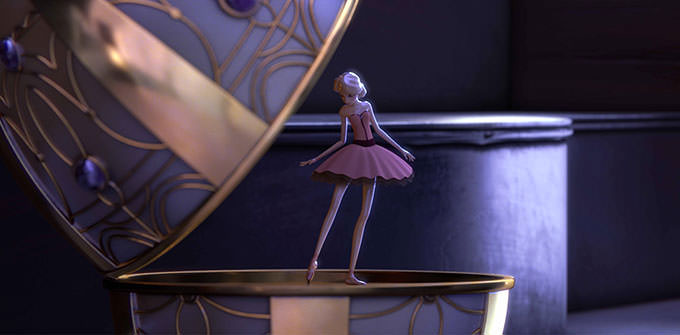 Screened at several festivals
It has been a successful year for the film Danse Mécanique, directed by LISAA Paris Animation & Video Games students.
The animated film has been screened at 12 festivals including the International Festival of Animated Dance - FIDA (2018) in Réunion, Festival du Film Court de Vélizy (2019), the Très Court International Film Festival, in the Family Selection category (June 2019), the Festival jeune public – Havre de cinéma (May 2019), Festival Meyzieu (April 2019), and also the Jecheon Intl Music & Film Festival - JIMFF (August 2019) in Korea, VAFI & RAFI - International Children and Youth Animation Film Festival (May 2019), the Animex Awards 2019, Student Category - CGI Animation Award (May 2019), the 31st Festival international du film court de Voiron, Fantoche Festival, the 17th edition of the international animated film festival, the 28th Madrid Film Festival FCM-PNR: category "Molon Film: Cinema for children", and Choreoscope - The International Dance Film Festival of Barcelona // Official Selection Choreoscope 2019: Goddesses. The film will be screened on Thursday, 17th October at the Filmoteca de Catalunya.
Danse mécanique also won the "Empowering Women's Voices" award at the IE Student Film Festival in Madrid.
The 3D animated film is also being screened at the Ciné-Concert XX/XXI of the Conservatoire au Château d'Annecy as part of the International Animation Film Festival.
Danse mécanique
Directed by Laëtitia Loison, Danse Mécanique tells the story of a very special little dancer. Made from porcelain, she is locked inside a music box. One day, she realises that she is able to move, but, blocked by the mechanism of the box, she is forced to remain motionless. The little dancer then begins her battle against the music box.
The team behind "Danse mécanique"
Danse Mécanique is a 3D animated film written and directed by 2018 graduate students from the 3D Animator Bachelor's course at LISAA Animation & Video Games Paris.
Directing, Colour script/Light script, Modelling, Texturing, Lighting: Laetitia Loison
Director of production, Storyboard, Layout, Animation, Editing: Thaïs Dubois
Storyboard, Lighting, Rendering, Compositing: Arthur Prompt
Animation, Rig: Manon Rathuy
Character Modelling, Lighting, Rendering, Compositing: Claire Robert
Concept, Asset Modelling, Asset Texturing: Marie Maubé
Formations liées au projet
Bachelor 3-D Animation
This course prepares students to become specialists in films for animation, music videos and advertising. Students will tackle the creation of storyboards, layout, sets, characters and the production of 2-D/3-D animation.
En savoir plus