Designer Collection Fashion Show at Cabaret Sauvage
On 29th September, students from the class of 2016 at LISAA Paris School of Fashion put on a catwalk show at the Cabaret Sauvage. An impressive and moving event choreographed by Julie Lavergne, teacher at Cours Florent.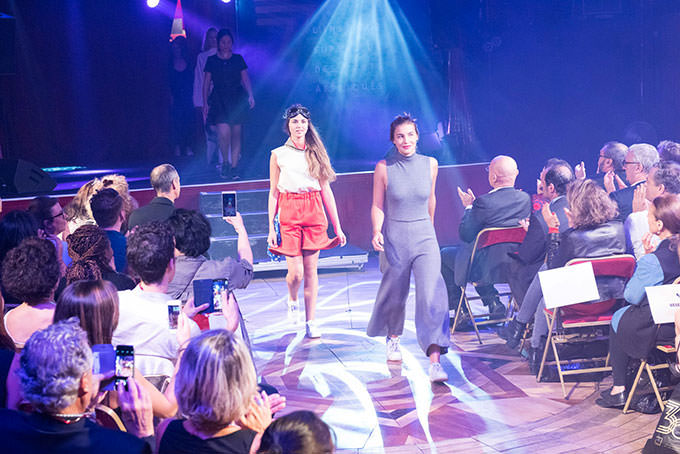 An audience of professionals
Five hundred professionals from the fashion and design industries came together on 29th September at the Cabaret Sauvage to see the fashion show of the 2016 graduates from LISAA Paris School of Fashion.
These young graduates from the Fashion Design/Pattern Making and Textile Design courses presented their designer collections created as part of their final studies in June 2016.
A co-production by Cours Florent, ITM & We Are Arts
The designers created their catwalk show in partnership with students from Cours Florent and their teacher, Julie Lavergne, who devised the choreography of the show with brio.
Models from the modelling school We are Arts—elegantly made up by the make-up school ITM—were also involved in this ambitious project. We would like to thank them for the high quality of their both visual and theatrical performance, which showcased the collections being presented.
Talented Designers
Faustine Balaguer, Camille Benoist, Galane Berclaz, Clémence Bodin, Alexandre Chou, Melvyn Daguet, Colombe-Agathe Denaes, Diane Descamps, Florine Desforges, Alexan Djidjirian, Eliane Dreyer, Elodie Ferreira-Ramos, Alexane Gire, Margaux Hugon, Iris Jarre, Souhyung Kim, Philippe Koulmann, Julie Lamagnere, Aude Langlois-Meurinne, Auriane Leonard, Mathieu Machy, Patricia Martinho, Clarisse Païva, Marion Pinelli, Marie Postec, Camille Reneaux, Alizé Vouette.
Photo credits: Guillaume Lebrun and Gaëlle Magder, Atelier Diptik