LISAA creates the visual identity of the Djazz software designed by IRCAM and EHESS
Five students on the Art Direction master's course at LISAA Paris have designed the complete visual identity for Djazz, an augmented Jazz software programme developed by IRCAM and EHESS.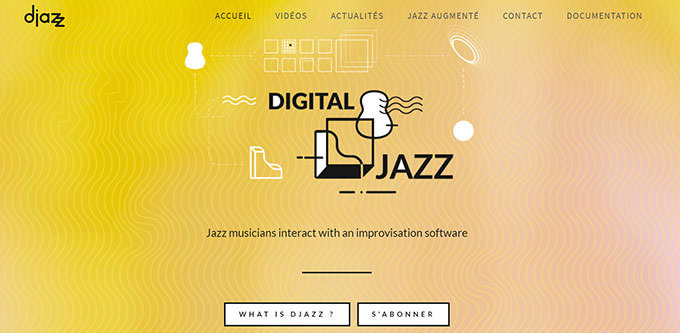 DESIGNING A VISUAL IDENTITY
Within the framework of their master's course in Art Direction at LISAA Paris, five students - Vincent Rizo, Gaspard Grenon, Jean-Baptiste Reibel, Emanuel Cuciureanu and Zhou Yu – created the visual and graphic design identity for Djazz, an "augmented jazz" software programme.
Branding, logo, a style guide, a website – the young graphic designers developed their creativity on different levels through their participation in the project's identity and its name. They then designed the logo and created a complete style guide for web and print. They also developed the website and an animated video.
AUGMENTED JAZZ
Djazz is an "artificial improviser" which creates music by accessing its database of recorded sequences. These come from a musician playing live whose sound is recorded by the computer, and a library of transcriptions of solos by famous jazz musicians.
This project led jointly with the EHESS and IRCAM is supported by the Compagnie Lubat and financed by the Nouvelle Aquitaine Regio, La Fabrique – Connected Cultures 2016-2017.