The film #NoFilter, directed by LISAA students, is presented at two festivals
The animated film "#NoFilter", directed by Rebecca Nakache, 2018 LISAA Animation & Video Games Paris graduate, will be presented at the Festival National du Cinéma d'Animation in Rennes, in the Student Film category, as well as at the Très Court International Film Festival 2019, in the Paroles de Femmes (Women's Words) category.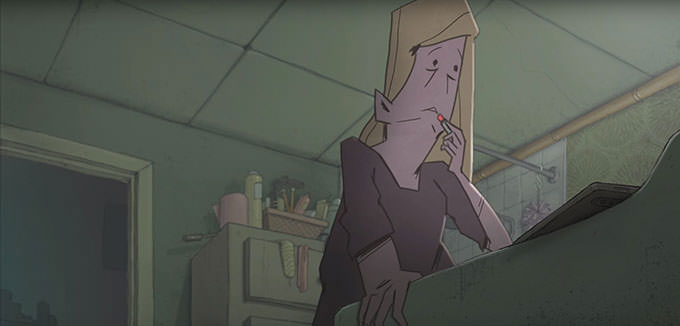 A film between fiction and reality
#NoFilter is the story of Beverly, a girl who lives only through her avatar on social media, a world which is a far cry from her real life. Following a conversation with a man online, reality comes back to the fore.
This animated film, directed by a team of 2-D animation students from LISAA Animation & Video Games Paris, resonates brilliantly with current affairs. This is perhaps one of the reasons why the animated film was selected at the Rennes National Animation Film Festival in the Student Film category.
Teamwork
The animated film was made by four students as part of their degree project:
Rebekah Nakache, director, worked on the narration, character animation and managed the team.
Marie Ladeuil, visual development and layout. This LISAA graduate created the apartment in which the film takes place, then designed the layouts from the first lines through to the colour.
Nicolas Deletoile, visual development and compositing. Among other things, the Character Designer worked on the protagonist's design and postures as well as the framing of layouts and compositing.
Justin NG, storyboarder and animator, produced the storyboard under the director's direction in order to translate her ideas. He worked, among other things, on framing and rhythm.
The national animated film festival
Created in 1983 by the French Animated Film Association, the Festival national du film d'animation (National Animated Film Festival) is the industry leader in France.
For over 30 years, it has been the meeting place for professionals and amateurs. The main aim of this event is to showcase the best of French creation and to promote animated film through screenings, competitions and awareness.
Since 2018, the Festival national du film d'animation has taken place in Rennes. This year, it will be held from 24th to 28th April 2019.
The very short international film festival
The unique Très Court International Film Festival highlights short films of less than four minutes.
For its 21st edition, the Festival will take place from 7th to 16th June in more than 20 countries and nearly 80 cities. Viewers from all over the world will have the opportunity to discover some one hundred films in three thematic selections and two competitions among which six works will receive awards.
#NoFilter is competing for the Paroles de Femmes (Women's Words) Award, which rewards women in front of or behind the camera.
Formations liées au projet
Bachelor 2-D Animation
This course prepares students to become specialists in films for animation, music videos and advertising. Students will tackle the creation of storyboards, layout, sets, characters and the production of 2-D animation. Registration for this course is possible until the end of December
En savoir plus