Designing the open-plan office of the future with Orange Business Services
Improving working conditions in an open-plan office through a user-friendly layout – this the challenge set by Orange Business Services for LISAA's Architecture and Interior Design students. In other words: how a new professional space can encourage business development.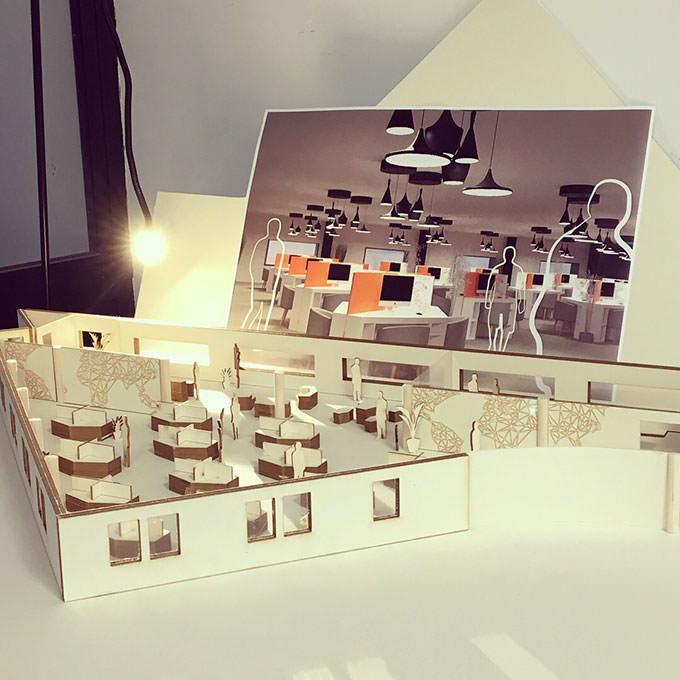 REDESIGNING SPACE TO TRANSFORM THE EXPERIENCE OF WORK
In an era of digital transformation, the emergence of new management methods and the "freedom-form company", many employees are praising changes happening in the workplace.
This is an innovative way of looking at work life that requires the development of the open-plan model and the daily professional environment of employees. How does changing the space change the business? What spaces can be designed to combine different personal needs while encouraging teamwork and transforming the experience of working?
The goal? To renovate a 300 m² open-plan space designed to accommodate 50 employees, while taking into account the new habits of workers: a need for peace and quiet while promoting synergy, preserving the need for a welcoming space for relaxation, etc.
ARCHITECTURE AND DESIGN FOR AN INNOVATIVE OPEN-PLAN SPACE
Thanks to their dual skills in interior architecture and design, students redesigned the overall layout of the space and also created a proposition for redesigning the visual identity as well as design solutions for office furniture.
By placing the user and their needs at the centre of the issue, they designed closed workspaces to increase calm, aimed to be both spaces for relaxation in which users can feel "at home", and different meeting spaces.
Particular attention was paid to improving acoustics by proposing a range of adapted materials as well as optimising lighting in order to improve employees' comfort and to facilitate better collaboration between them. Each pair also made a video to provide an immersive view of the imagined spaces.
A PARTNERSHIP WITH ORANGE BUSINESS SERVICE
In order to launch this collaboration, the company conducted an internal satisfaction survey with employees working in the given area.
This is a major project for students, enabling them to showcase the emergence of their professional skills by being confronted with real and demanding cases.