LISAA Fashion Paris students design stage outfits for Clara Luciani
Thanks to an unprecedented partnership, LISAA Fashion Paris students had the opportunity to create stage outfits for Clara Luciani, the new face of French pop.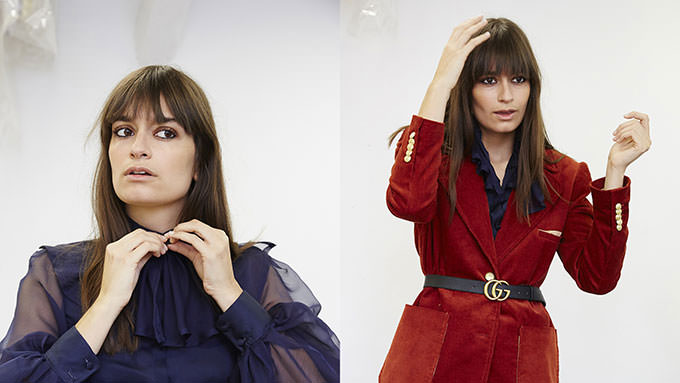 Clara Luciani, singer and seasoned fashionista
Winner of the 2019 Stage Revelation of the Year award at the 34th Victoires de la Musique, Clara Luciani is the new face of the French pop. For two years, the young artist has charmed fans with her original voice, her authenticity and her sharp look.
And her style has been noticed by the French press and fashion professionals: "In terms of fashion, the rising star of French chanson shines" notes ELLE magazine. A style that has also caught the attention of Christelle Conte, head of studies at LISAA Fashion Paris.
A made-to-measure project
"Students like to have something physical to make sense of their work," says Christelle Conte. In light of these observations, the head of studies launched a collaboration with Clara Luciani.
"My idea was for them to create tailor-made outfits for an artist who has an eye for fashion and a very distinctive look."
Christelle Conte, head of studies LISAA Fashion Paris
Excited about this project, the LISAA fashion students began by meeting the singer and listening to her likes and wants. They then put forward drawings based on Clara Luciani's ideas, for her to choose from.
The styles designed by Corinne Soalca, Carla Bore and Xioqing Luo were selected. In a second phase, all of the students proposed outfits in keeping with the drawings.
Clara Luciani then came to LISAA Fashion Paris to try on the outfits and select her favourites.
Creativity and personality
The singer's much-awaited choice was a difficult one, to say the least.
"I was amazed—I wasn't expecting this level of originality and personality"
Clara Luciani
Torn between several outfits and instant favourites, the singer left with more outfits than expected: a blue marl blouse designed by Lorenza Codispoti, which she has already worn at her concerts at Rouget and Noumatrouff, a black blouse with gold buttons made by Marion Couvert, tartan trousers with a navy blue blouse and orange jacket designed by Georgie Salama, and teal trousers with a white blouse made by Morgane Mahieus.
To discover the looks that Clara Luciani chose, visit the photo gallery.
© Marie-Elodie Fallourd.
Projet suivi par
Christelle Conte
Head of Studies - Fashion
Projet suivi par
Patrick Genevey
Pattern & Prototype Construction
Formations liées au projet
Bachelor Fashion Design / Pattern Making
On this course, students will create garment and accessory designs, devise ready-to-wear and "designer" collections, and present them at catwalk shows and show rooms, in front of professionals. 2 starts: October and January! Registration for this course is possible until the end of December
En savoir plus
Bachelor Fashion Design / Textile Design
This course prepares students to become specialists in textile design. They will learn how to create colour and fabric ranges from their research and will create textile design collections. 2 starts: October and January! Registration for this course is possible until the end of December
En savoir plus
Bachelor Fashion Design & Business
Students become experts in fashion aud luxury. They cover the whole process of fashion design to create collections that are coherent in their market. The last 2 years in e-learning allow students to study management and marketing whilst working in a company. The course trains them to become fashion and luxury management specialists: they discover the whole range of different aspects of the international fashion industry, from designing a collection and organising a business, to managing a brand, communication, e-business, e-communication.
En savoir plus