Nayima selected for the Ping Awards finals
The judges of the Ping Awards have shortlisted Nayima, a video game created and developed by students at LISAA, for the finals that will take place on 29th October at the Cité des Sciences et de l'industrie.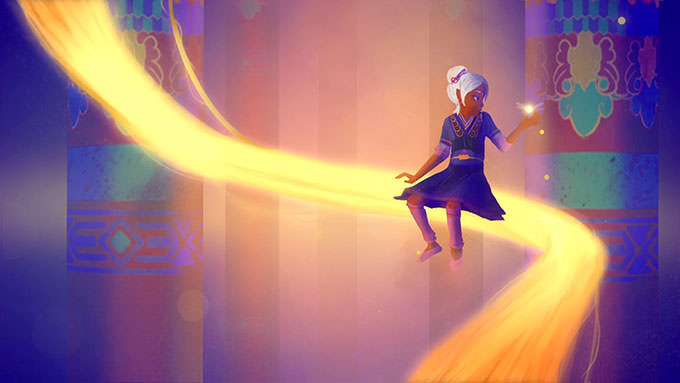 A FAIRY TALE VIDEO GAME
Nayima is a third-person puzzle game, which takes place in a poetic universe, deprived of sunlight after an earthquake.
In this game, the hero must weave a thread of light between the different sacred stones of a temple to end the eternal night. In order to do this, he must manage his movements and solve riddles.
A VERY FEMININE TEAM
This year, the team of students selected from LISAA Paris' 3-D Video Gamesdepartment is very feminine, as four out of its six members are girls: Olivia Trilleau - Lia Pianelli - Thomas Szidon - Christiane La - Johanne Amar - Peter Maandag. A rather rare occurrence in the world of video games.
THE PING AWARDS
The Ping Awards Ceremony aims to promote the work of artists in digital design. Punctuated with reports, musical performances and prestigious guests, the Ping Awards Ceremony is a unique moment that brings together the big players in French video games.
The organizer of the ceremony, Capital Games, is a video games cluster that brings together stakeholders in the video games sector in the Ile-de-France region. The association supports member companies in the region in its network around seven axes: member services, human resources and training, financing, international development, marketing and events, ethics and, finally, Game Paris.
THE JUDGES' VOTE
On Saturday 17th October, over the course of the day, the public can test the ten nominated games and vote for their favourite. The public vote will constitute a separate vote in the final judging panel to decide the best student game 2015.
PRACTICAL INFORMATION
Ping Awards Ceremony
29th October
Cité des Sciences et de l'Industrie
30 Avenue Corentin Cariou, 75019 Paris
01 40 05 70 00
Formations liées au projet
Bachelor Video Game
This course trains students to be specialists in video game design. Over three years, they will tackle all aspects of interactive creation according to their chosen specialisation.
En savoir plus
Master Video Game
This course is aimed mainly at students who completed the 2-D/3-D video game course. Il allows them to further develop their abilities in the following areas: 3-D animation, concept art, 3-D modeling, rigging, lighting, shaders creation, VFX, level design, scripting, game design.
En savoir plus