Several festival nominations for animation graduates!
Three films by LISAA Animation & Video Games graduates are currently shortlisted at several French and international festivals. A real success for our students' work!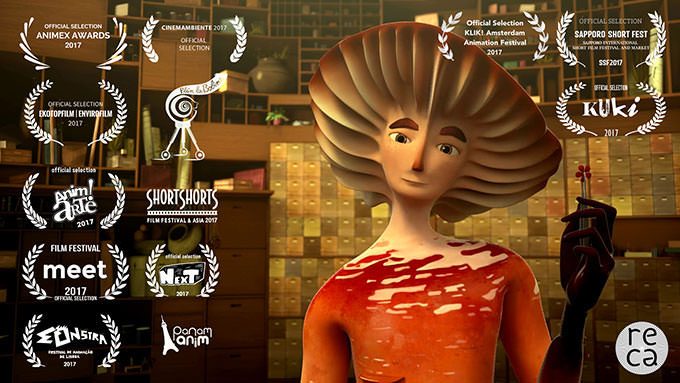 THE CLASS OF 2017 HONOURED
Two films by 2017 graduates from the Animation and Video Games course at LISAA Paris—Extra Lucide (Clairvoyant) and Dessin d'Enfant (Child's Drawing)—have seen success, being both nominated in the Cinanima International Animated Film Festival in Portugal and the 18th edition of the Pontault-Combault First Short Film Festival. For the latter, the filming teams will be present at the opening ceremony on the 6th October.
When a clairvoyant predicts their own death.
A film made by:
Cyril Vacaresse (Direction, Storyboard), Florian Teyssou (Concept Art, 3-D Generalist) Maxime Cronier (Animator, 3D Layout) Nicola Gallea (Concept Art, 2-D Layout), Cedric Henriques (Animation, Chara Design) Noémie Govare (Animation), Clovis Schneider (Music), Thérence Guillerme (Sound Design).
A shy little boy turns to his imagination for the courage to go and see a girl he likes.
A film made by:
Bastien Gaudin (Storyboard - Animation), Francesca Declert (Animation), Zurab Lelashvili (Charadesign - Compositing), Mathilde Céré (Background - Colour), Deborah El Guedj (Background - Layout), Hongyi Liu (Animation), Steven Bonnet (Music), Vincent Préaubert (Sound Design).
CONTINUED SUCCESS FOR AUTUMN
After being selected for a wealth of animation festivals in spring 2017, the film Automne (Autumn) continues its path of success with numerous nominations at several leading international festivals: the Sapporo International Short Film Festival which takes place in Japan, the KLIK Amsterdam Animation Festival taking place from 17th to 22nd October 2017, the KUKI Berlin Festival from 19th to 26th November, the Brussels Short Film Festival from 25th April to 5th May 2018 and the Amarcort Film Festival in Italy.
A CREATIVE AND POETIC FILM
Automne (Autumn) is a 3-D animated film made by a group of students who graduated in 2016 from the Animation and Video Games course at LISAA. It tells the story of the seasons workshop where Autumn takes its place near to the model representing Earth. Using its tools, it brings its season to the planet, colouring the leaves, and bringing rain and wind to the landscapes before giving way to Winter.
This poetic film was made by Yann Austin (modelling, compositing), Marie Briand (rig, 3-D animation), Cécile Fauchie (concept art, modelling), Louise Flatz (concept art, layout), Hélène Letourneur (visual development, texturing), Marina Saunier (CG animation).