Meeting Gérard Ifert for the occasion of the Photographisme exhibition at the Pompidou Centre
Following their visit to the Photographisme exhibition at the Pompidou Centre, LISAA Paris students had the opportunity to welcome designer Gérard Ifert to their school for an afternoon of interesting discussion with the young graphic designers.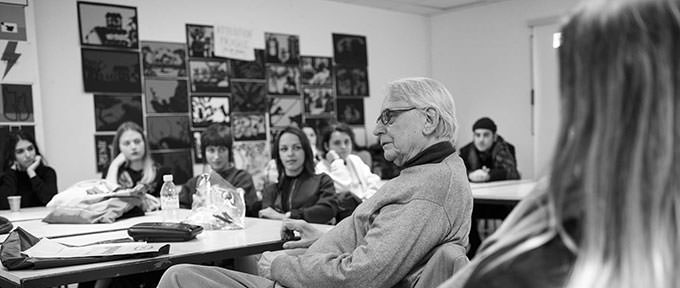 GÉRARD IFERT AT THE POMPIDOU CENTRE
On Friday 1st December, second-year students on the Graphic Design bachelor's course at LISAA Paris visited the exhibition Photographisme - Klein, Ifert, Zamecznik, which is on show until 29th January 2018 at the Pompidou Centre. The unprecedented retrospective shows the history of the relationship between photography and the graphic arts.
The following week, the students were lucky enough to welcome Gérard Ifert to LISAA Paris. The Swiss designer came to explain his work and his career path, discussing graphic design, furniture design and exhibition scenography, sharing his vision of creativity with the students.
A prolific graphic designer with a career that has been both discrete and exceptional, Gérard Ifert started out in Paris in 1949. He began by designing travelling exhibitions for the Marshall Plan and then went on to work, in particular, for the American Cultural Centre in Paris. He then founded his own Parisian studio and dedicated his personal research to abstract photography and reportages on architecture.
PHOTOGRAPHIC CREATIONS
On this occasion, and within the framework of their lessons of photographic design and graphic design, the students are currently working on a poster project. For this, they took several photos from which they will create their posters on the theme of abstraction.