Speed-recruiting day at LISAA Graphic Design Paris
On Friday, 8th March, LISAA Paris graphic design students met industry professionals and recruiters to simulate job interviews. An essential exercise in preparation for their professional careers.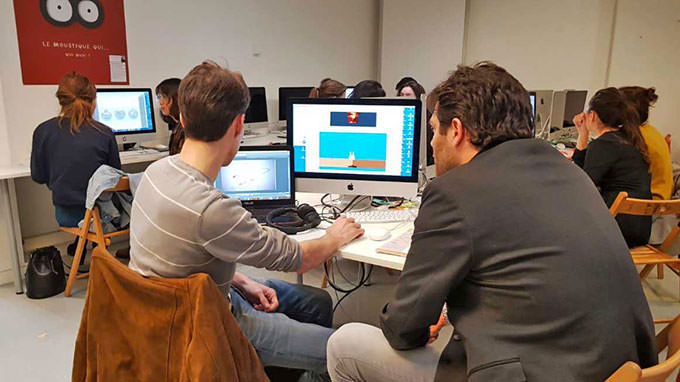 15 MINUTES TO SHINE
Inspired by speed-dating, speed-recruiting is a recruitment technique enabling companies to hire people in just a few minutes.
The concept forces candidates to be concise in the way they present and pitch themselves.
The teaching team at LISAA school of graphic design in Paris has implemented this concept to enable students to meet industry professionals seeking to recruit new candidates.
Over the course of 15 minutes, students had to talk about themselves, their training and their skills to recruiters and professionals from various businesses—a particularly rewarding exercise.
AIM: TO FIND A WORK TRAINING PROGRAMME
This speed-recruiting day allowed students in the first year of Digital Art Direction to meet many recruiters in preparation for the second year of their master's degree.
The next year of their study will be in the form of a sandwich course. The main purpose of this event was to open doors for them to these businesses.
A WIDE RANGE OF BUSINESSES TAKING PART
The recruiters who took part in this recruitment day came from various sectors, including communications agencies, production companies and TV channels.
As the graphics sector has a wide field of application, students in Artistic Direction can potentially work in all types of companies.
François Vermorel, head of studies, Digital Art Direction/UX Design master's degree
Participants: Havas, TF1, Virtuoz, agence 4 août, Sixtine, Meltygroup, Midi quinze, Malherbe, Jellysmack, Homa Games, Harto, Happn, Hands, Gorille, Expertime, Electogeloz, Cymatic, Cizoo, Cheerz, Budgetbox, Brandimage, Bnp Paribas Cardif, Bcw, Barjabulle, Aparte, Agence lafourmi, Adhoc design, 5ème gauche, Idix, France Immigration...