Inside of Daum
Élodie Chevaudonnat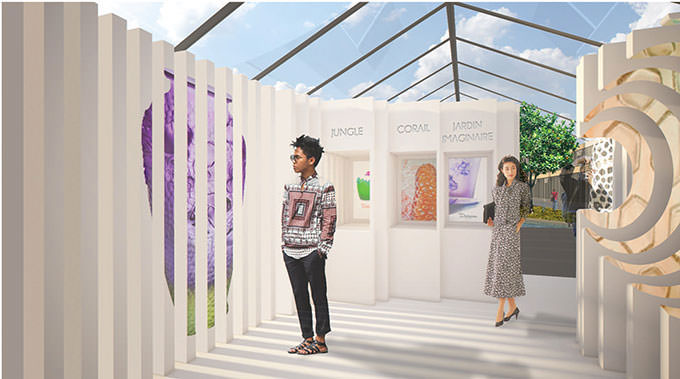 A pavilion built into a mall
Inside of Daum is a project in collaboration with the brand Daum, one of the most prestigious crystal makers in France. The key idea behind this project is the mould, which is an important part of the manufacturing process for a Daum piece of crystal. Inside, the visitor is invited to discover Daum's savoir-faire via different interactions. The structure on different levels creates a play of light and also brings to mind "the identity of a mould that decomposes, thereby revealing the brand to the rest of the world."
The visitor will firstly explore pâte-de-cristal by way of automatically lit sheets of Plexiglas. These sheets will showcase the material, its transparency and its different designs. The next space shows the manufacturing process of one piece of crystal. A hollow is present here in order to give the impression that the item is coming out of the different levels. Each hollowed level is made of separate decorative sheets, enabling the design to be changed according to the collection of the moment. The visitor then arrives at the stage of the finished product, with the presentation of three collections (Jungle, Coral, Imaginary Garden). An object is presented through its visual as well as close-ups that showcase each Daum item.
The automated machine: the visitor has the opportunity to find the Daum product that best corresponds to their tastes. In order to do this, they must answer three questions to choose the pattern, the type of item and its colour. They can then customise the stand that will go with this piece with a message.