Cultural visit to Brest with the Confucius Institute for LISAA Rennes students
Mercredi 23 octobre 2019, les étudiants de LISAA Rennes ont eu la chance de visiter trois lieux emblématiques à Brest accompagnés de l'Institut Confucius. Cette journée a été également l'occasion pour eux de faire une rencontre particulière...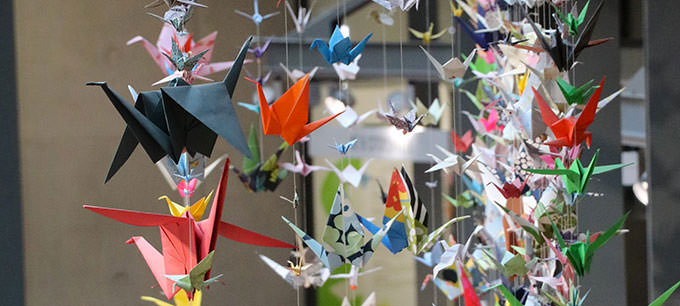 Journée culturelle à Brest
Ce début d'année est placé sous le signe de la culture artistique pour les étudiants de LISAA Rennes. Mercredi 23 octobre, ils sont allés à Brest, accompagnés de l'Institut Confucius, qui promeut la culture et la langue chinoise. À cette occasion, ils ont visité trois lieux culturels emblématiques de la ville :
Les Ateliers des Capucins, ancien chantier naval rénové en un lieu de vie et de culture dans le cœur historique de Brest, où une une médiathèque et une fabrique d'innovation numérique labellisée Capitale French Tech se côtoient.
Les étudiants en 3e année de Design graphique ont ensuite visité l'imprimerie Cloitre de Landerneau, partenaire historique de LISAA. Là-bas ils ont pu découvrir la chaîne graphique.
Enfin, ils sont allés au Fonds Hélène et Edouard Leclerc pour la culture où se tient en ce moment l'exposition Cabinets de Curiosités.
Conférence et workshop animée par Yu Rong
Cette journée culturelle était également l'occasion pour les étudiants de rencontrer Yu Rong, illustratrice chinoise pour enfant. Diplômée de Royal College of Art, Yu Rong est une illustratrice chinoise d'album jeunesse. Ses œuvres sont publiées au Royaume-Uni, aux Etats-Unis, en Italie, aux Pays-Bas, au Japon, en Corée du Sud, et pour la première fois en France.
Yu Rong a pris le temps de raconter son parcours aux étudiants, et d'expliquer son travail basé sur le papier découpé. Une intervention suivie d'un workshop sur ce thème. Les étudiants ont dû réfléchir rapidement à un cliché chinois, qu'ils ont ensuite dessiné puis découpé dans du papier de riz.
Une journée et un projet pour l'Institut Confucius
L'intervention de Yu Rong et la visite aux Ateliers des Capucins s'inscrit dans la cadre d'un projet d'affiche pour une exposition organisée par l'Institut Confucius qui réunira en 2019 plusieurs illustrateurs chinois. Les étudiants de LISAA Rennes ont pour mission de proposer une identité visuelle pour cet événement.
Pour compléter cette journée, Chunyu Wang, un enseignant peintre en méthode traditionnelle chinoise de l'Institut Confucius viendra faire un cours mercredi 30 octobre à LISAA, il fera une démonstration des techniques du lavis, suivie d'une mise en pratique.
Formations liées au projet
Bachelor Graphic Design
During this course students learn to define a visual communications strategy, to master different means of expression and to use them on various supports: print, packaging and interactive media.
En savoir plus