Virtual reality time travel in Bastille
Victor de Kiss, Léo Laparra and Aline Hananel, 2011 graduates from the 3-D and 2-D Animation course at LISAA Paris, joined the Timsecope team for a virtual reality historical reconstitution project on the place de la Bastille. The terminal has been installed at Bastille since March 2016.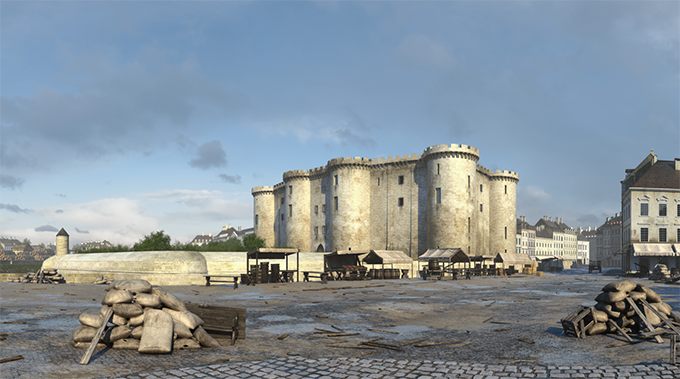 TIME TRAVEL THROUGH VIRTUAL REALITY
Timescope is a virtual reality terminal that takes users on an immersive time travel experience, choosing different periods of history. Founded by two entrepreneurs in 2015, Timescope set up their first terminal at the place de la Bastille in March 2016. In order to create this journey to the past, one of the founders called upon Victor de Kiss. This LISAA Paris graduate in 3-D animation was asked to increase the realism of several animation sequences.
At the time, Victor was working on another historical reconstitution project with Léo Laparra, a fellow LISAA alumnus. They started working together on the "Bastille" project for Timescope, developing a template around a realistic and aesthetic graphic style.
ANIMATION THAT BRINGS HISTORY TO LIFE
Once this template was approved, the production of two sequences of 1 minute 30 seconds was launched. When the animation requirements were determined, Aline Hananel, 2-D Animation graduate from LISAA, joined the team to bring the characters to life. "It was a lot of work and a big investment," Victor explains. He describes the result of the Bastille terminal as follows: "You see the landscape from the same point of view, at the end of the current boulevard Richard Lenoir, but the paving stones become dirt tracks, and the buildings turn into a fort…"
The terminal installed on the place de la Bastille allows curious visitors to travel to two periods in time: 1416, when Bastille was a military fort that protected the entrance to Paris, and 1789, at the dawn of the French revolution. Other terminals are currently under construction, for Paris and beyond.
SHARED TECHNICAL AND ARTISTIC CHALLENGES
"My greatest pride is having been able to work with Léo to rise to technical and artistic challenges with our own means. We always strive for challenging ambitions, and then we work relentlessly to achieve them," explains Victor. "We were together for our end of course film and, five years later, we have completed several projects together. We alternate industry projects, each with our own skills, and shared artistic, experimental or new-technology projects."
Victor currently works in Montreal at MPC, a large VFX company. "I do compositing on films filled with superheroes, robots, great big monsters and fantasy settings." After this experience, he hopes to work with Léo and the other members of the collective again. "We have some great projects ahead of us, but… you'll have to wait and see!"
BE PASSIONATE!
"Whilst you are still a student, you should find out about different specialities in the career you wish to go in to," advises Victor. "Remaining non-specialised suits advertising or freelance projects perfectly. However, to work in the industry, you must specialise in a discipline: FX, animation, lighting/rendering, modelling, compositing, etc. Technical skills are key for finding a work placement or job after graduation. It's also important to work on your visual skills and to have a critical view of your work. In short: be passionate! Try it – let yourself go!"
"To satisfy more creative or fulfilling ambitions, work on personal projects. You will bring technical and professional experiences to your creative talents."
"Finally, if you want to launch your career and survive in a profession, you must work on your communication skills: look at the demo reels of experienced graphic designers, websites, LinkedIn profiles... Take every good presentation idea and make companies or clients want to work with you! Once you are hired, make yourself indispensable!"