Interview with Eugénie and Isabelle, founders of Epolet // LISAA Alumni
Isabelle and Eugénie, 2010 graduates in Graphic Design at LISAA, founded the brand Epolet, a multidisciplinary studio. Here is our interview with them.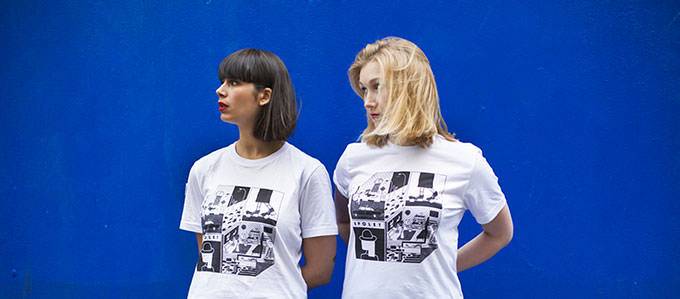 LISAA: CAN YOU TELL US ABOUT YOUR CAREER PATH AFTER GRADUATION FROM LISAA?
Eugénie aka IGY: We met in Paris in 2008 at LISAA, during our first year studying Graphic Design. We clicked from the very start. Two years later, we graduated in Graphic Design.
Following that, I went on to study art direction at Maryse Eloy and then undertook my end of studies work placement at Studio Boot in the Netherlands, which allowed me to explore the field of graphic design more freely.
Isabelle aka Izaz: After graduating from LISAA, I decided to get into the world of video and I learned about the technical side through a work placement. That's where my work as a motion designer began.
WHY DID YOU DECIDE TO LAUNCH THIS PROJECT TOGETHER?
Izaz: When IGY came back from the Netherlands, we decided to launch Epolet. Both of us where in search of creativity and we didn't want to stifle that in a company that we didn't fit with.
The Epolet signature is 'A Chromatic Orgy'—it radiates joy.
IGY and Izaz, 2010 graduates in Graphic Design, founders of Epolet
IGY: We wanted to share our passion for the world of fashion, graphic design and decor. Textile design was our first experience. Changing mediums, being able to work on sizeable and high-quality formats allowed us to express ourselves freely. The Epolet signature is "A Chromatic Orgy"—it radiates joy. We see our world as "free, dynamic and fun" and what we want is fashion without pretention, a desire to suggest and share visual worlds that correspond to us.
WHAT DOES YOUR WORK ENTAIL?
IGY: We share tasks between us according to our skill sets and what we enjoy doing. But we each have our specialities—mine is Print Design. I am very interested by materials. I'm passionate about fashion, architecture and the life that allows me to explore my creativity. Today, I am focusing on porcelain in particular to express myself.
But what we really like doing is sharing in real time and designing together. We exchange and suggest solutions to each other and there are always surprises.
What do I want to communicate through our designs? A curious and free spirit.
Izaz, 2010 graduate in Graphic Designer, co-founder of Epolet
Izaz: As a self-taught freelance motion designer, I focused on graphic design during my studies and now its textile design that I'm passionate about, exploring patterns and textures of clothes… What do I want to communicate through our designs? A curious and free spirit. I'm in charge of necklaces and couture, both of which I would like to develop more.
In addition to our products, we are also developing our studio activity. At the moment we are working for the Cognac Blues Passion festival for which we are creating video projections and VJing (real time visual performances) for an after party for the festival called VOODOO.
WHERE DO YOU FIND INSPIRATION FOR YOUR DESIGNS?
IGY: A lot of it is what surrounds us in our daily life. A shape, a material, a texture, a person you pass in the street, travelling, a place, a building… We memorise everything through photos and quick little sketches. In our designs we try to use a texture, an illustration and a photo—three components that we are passionate about.
WHAT'S NEXT?
Izaz: At the moment we are working on a new collection that will use new mediums. We would like to develop our graphic design studio activity more—and this is already underway! In the future we would also like to collaborate with brands and shops.