Interview with Mélanie Lallemand Flucher, Interior Architect // LISAA Alumni
Having graduated from LISAA in 1996, Mélanie Lallemand Flucher set up her architecture and design agency in 2011 after having learnt the ropes for 12 years from renowned professionals Claude Vasconi, Rena Dumas and Patrick Jouin. Working alongside them, she gained knowledge in international settings that affirmed her open-minded approach and her creativity.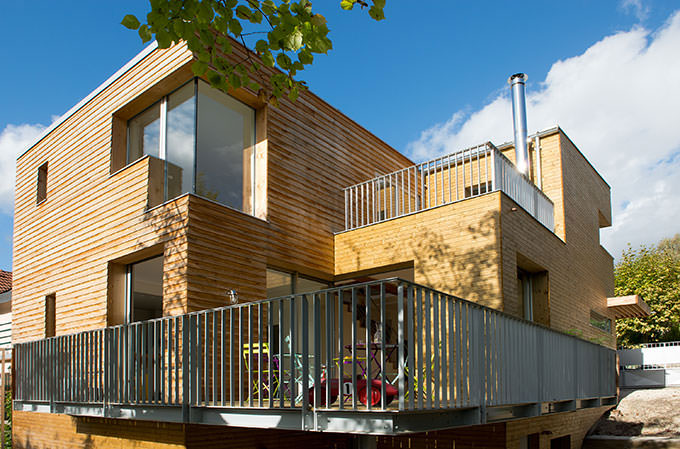 LISAA: CAN YOU TELL US ABOUT YOUR AGENCY?
WHY DID YOU CHOOSE TO SET UP YOUR OWN BUSINESS?
These three experiences allowed me to work on prestigious projects such as the Palais de Justice in Grenoble, The School of Music and Dance in Velizy-Villacoublay, some boutiques and the flagship for Hermès and Charles Jourdan, the 4**** Benkiraï hotel in Saint-Tropez, the women's shoe department at Galeries Lafayette and some high end restaurants.
I acquired high standards that I use today to optimize each project. When projects came to me in 2011, it was a completely natural step to create my own agency.
WHAT HAS BEEN THE MOST IMPRESSIVE PROJECT YOU HAVE WORKED ON?
My proudest achievement is the Maison Bois in Sucy-en-Brie, also called the "bioclimatic house" by the local CAUE [national federation of architecture, urbanism and environment] that organizes regular visits there. I designed this house in its entirety, as well as its interior layout, the bespoke furniture, and the arrangement of lighting and manufactured furniture. I was also involved in the choice of details such as the bathroom towels and the landscaping of the garden. It was a comprehensive project, completely in tune with the clients.
What I like above all is to mix architecture, interior architecture and design: three complementary areas that allow me to work for a human being in all their dimensions.
Private or corporate clients call on me when they want bespoke work that is both high quality and functional: a space to live that is innovative and creative.
WHAT ADVICE WOULD YOU GIVE STUDENTS?
I would advise them to focus on work placements in agencies with high potential as that is where you learn the fundamental bases for specialised, demanding and high quality work. Learn an efficient work process without forgetting about feeding creativity with exhibitions. Be curious and humble because you learn everyday how to be more creative.
WHAT ARE YOUR FUTURE PROJECTS?
After lots of work for private clients (houses, extensions, apartments, furniture), I'm increasing contact with professionals to develop within the retail market (a small shopping centre and a florist at 69 rue du Bac in the 7th arrondissement in Paris) and hotels (a competition just submitted). I'm also starting to develop a range of furniture.
In ten years, I would like to link several creative fields of architecture with design, via objects, accessories and clothing.