Three LISAA projects win awards at the Mini Maousse competition
On Thursday, 28th April, three projects by LISAA Paris students were awarded prizes by the jury at the now-famous Mini Maousse competition organised by the Cité de l'Architecture et du Patrimoine and the VIA. The students' projects were singled out amongst 200 entries, affirming once again the quality of work produced by LISAA students.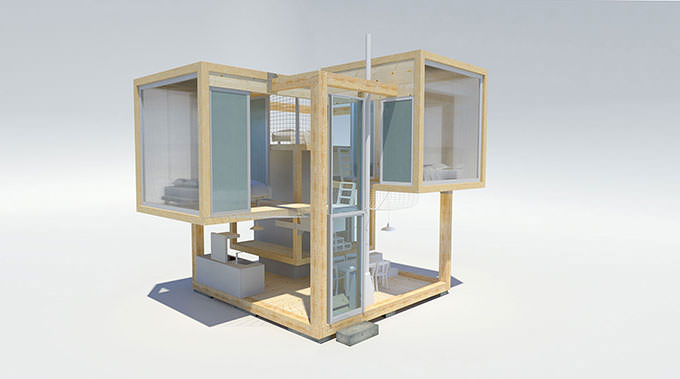 THREE AWARD-WINNING PROJECTS FROM LISAA
Kyubu - Ludovic Geraerts et Virginie Vasquez

Light Colombage - Mégane Hentzen

Wood Up - Lauren Germain and Aurore Pulwermacher
These results make LISAA the most awarded interior architecture school in the competition.
PRODUCTION OF PROTOTYPES
As a reward for their work, the winning students were awarded with the opportunity to participate in a two-week workshop at the l'Ecole supérieure du bois (French engineering school in wood science and technology) in Nantes in July. Here they will undertake a technical review of their projects and make a model or prototype to 1/5th scale.
The results of the workshop (models and prototypes) will be exhibited at the prestigious Cité de l'Architecture et du Patrimoine in Paris in April 2017. As for the house prototypes, they will also be made in order to be installed in Nantes in April!
EXHIBITION AT THE VIA
Amongst the 200 entries, eight projects from LISAA were short listed for the competition finals. They are all currently the subject of an exhibition at the VIA from 20th April to 18th May. Feel free to go and discover them!
A NEW HOUSE FOR BETTER DAYS
Jointly organised every two years by the Cité de l'Architecture et du Patrimoine and the VIA, this year the Mini Maousse competition was on the theme of "A house for better days". Students from French design schools in architecture, design, art, landscaping and engineering at a bachelor's level, or those who have graduated no more than a year ago, were invited to design a temporary living unit that is both ecologically and economically friendly.
A REQUEST FROM ABBÉ PIERRE TO JEAN PROUVÉ IN 1956
The theme of better days is a reference to request from Abbé Pierre to Jean Prouvé in 1956. In this instance, it is about a modular, adaptable, stackable, transportable unit, that can be dismantled, which is designed to respond to three real situations, from welcoming isolated individuals or vulnerable households with or without children on land or spaces without building – such as shanty towns – to housing in built-up areas for students, short-term workers or families waiting for access to housing, to collective and temporary residences such as seasonal holiday camps.