Urbanism and sustainable design workshop in India
From 26th February to 7th March, a group of students from LISAA Rennes and Paris travelled to India for an exceptional workshop on the theme of sustainable design and urban planning. It was an educational and cultural trip for which the final projects were presented to the Alliance Française in Pondicherry.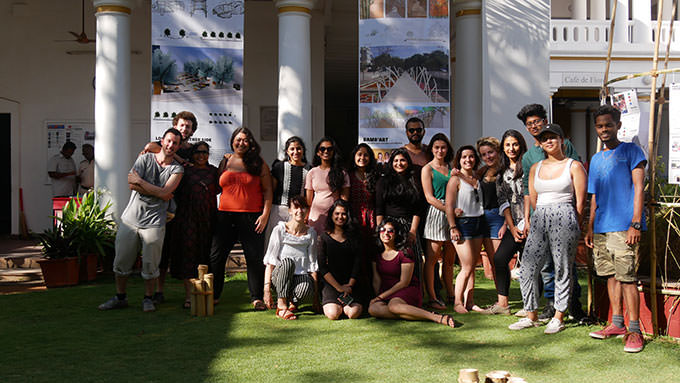 AN EDUCATIONAL TRIP TO INDIA
This educational trip, under the patronage of Catherine Suard, Consul General of France in Puducherry, and supported by Kiran Bedi, Lieutenant Governor of Puducherry, aimed to encourage discussions and exchanges between students at LISAA schools in France and India on the issues of the future.
SUSTAINABLE DESIGN AND URBAN PLANNING
The aim of this workshop was to think of new urban planning solutions and renovation projects for Pondicherry, as a "smart city". The city is effectively cut in two geographically by a big canal. The objective for the young designers and architects was to recreate a link between the so-called "white town" near to the sea and the "grey town" located on the other side of the canal.
For this, they reflected upon the architectural, environmental and cultural relationships between the historical heritage of this city and the future, rapidly expanding city. Together with this reflection, the technical theme of this workshop was bamboo, an eco-friendly material for the future, which is readily available in India.
The Alliance Française in Pondicherry, a partner of this trip, opened the workshop and welcomed the students in order for them to be able to work in groups and carry out their projects.
MEETING PROFESSIONALS
During this trip to India, students travelled to different cities and met professionals at conferences, including Frédéric Landy, director of the French Institute of Research (IFP), geographer and professor at Paris Ouest Nanterre University.
In order to better understand bamboo as a material, a workshop on usage techniques in design and architecture took place with Shanthamani Muddaiah from the company Bamboo Pecker.
EXHIBITION OF THE PROJECTS AT THE ALLIANCE FRANÇAISE
Students presented their final work – projects called Bamb'art, Puduline and Look On the Other Side – at an exhibition open to the public in the gardens of the Alliance Française in Pondicherry. The opening event took place on 5th March in the presence of local media who came to find out more about this project bringing together students from France and India.
This educational trip also had a cultural role and the students and their teachers visited several historical sites and monuments including the Mahabalipuram temples.
It was an extremely enriching experience full of exchanges and meetings for the students and a key moment in their year.
Projet suivi par
Vanessa Farnot
Head of Studies - Foundation Year & Graphic Design 1st & 2nd years
Projet suivi par
Sonia Lecomte
Director LISAA Rennes
Projet suivi par
François Camard
Head of Studies - Graphic Design / Creativity / Motion design
Projet suivi par
Léna Riaux-Bernard
Interior Architecture
Formations liées au projet
Interior Architecture & Design / 5-year course
This course prepares students to become specialists in furniture and object design, global design, service design, Internet of Things design, design of interior spaces, stage design, creation of cultural spaces, environments and urban spaces. Students can undertake a sandwich course work placement during their 5th year.
En savoir plus
Bachelor Graphic Design
During this course students learn to define a visual communications strategy, to master different means of expression and to use them on various supports: print, packaging and interactive media.
En savoir plus
Bachelor Graphic Design
This course teaches students how to define a visual communication strategy, to master different means of expression and to use them on various supports: print, packaging and interactive media.
En savoir plus